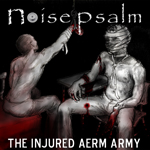 Noisepsalm - The Injured Aerm Army
Released September 2008
[listen to samples]
The Injured Aerm Army. This is an intense journey into electronic dub, industrial trip hop and what can only be coined as dark dubcore. Borrowing influences from many of the predecessors of industrial music as well as some of the dub greats, Noisepsalm has completed an engaging journey into the dark recesses of your mind inhabited by Saturday afternoon horror flicks, runaway robots and mad scientists. This 11-track release includes collaborations with Phoenix, Interloper, The Headcase, Asymptote, and Rhedcerulean.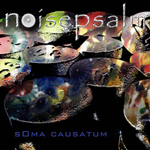 Noisepsalm - s0ma causatum
Released March 2009
The sophomore full-length effort by mAth Lewis' project Noisepsalm is as much a sonic surprise as the first release - very different in texture and form. Noisepsalm has collaborated with brethren in the field (Rhedcerulean, Marshall Pierce, Cursed Chimera & Alan Herrick) resulting in a release which is somewhat of a missing link between 80's Coil albums and a really good, unreleased, missing, rare Psychic TV album. Along the way there are forays into the creepier side of Peter Gabriel and David Byrne and Brian Eno's My Life in the Bush of Ghosts.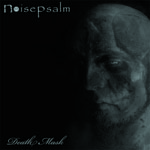 Noisepsalm - Death Mask
Released October 31 2010
The latest release by Noisepsalm is now available. What is being described by some as the Noisepsalm Manifesto - This release explores a broad sonic landscape and presents with a marvelous selection of remarkably well produced and intricate pieces. This is a complex and diverse offering which serves as a testament to the abilities, growth and sonic achievements of Noisepsalm.